Holiday Closure - February 20, 2023
Our offices will be closed on Monday, February 20th in observance of "President's Day" in the USA.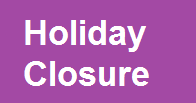 Please allow extra time for us to respond to your inquiries and questions. We will get back to you as soon as possible when we return to the office.
Presidents' Day is an American holiday originally established in 1885 in recognition of President George Washington, the country's first President. It is still officially called "Washington's Birthday" by the federal government but this U.S. holiday now memorializes the birth of all former Presidents of The United States on the third Monday in February.